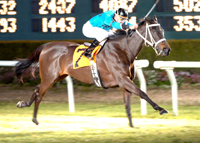 -photo by Jack Coady/Coady Photography
Wild Encounter Wins Her Second Stakes of the Sam Houston Race Park Thoroughbred Meeting
Houston, Texas (February 10, 2007) - On Texas Champions Day, the 3-year-old Wild Encounter finished in a dead-heat with Tunnel Time in the $50,000 San Jacinto Stakes over the Connally Turf Course. Tonight, the dark bay filly returned to the racetrack a little wiser and was all alone at the wire as she defeated eight rivals in the $45,000 Jersey Village Stakes.
The 4-year-old filly is trained by Michelle Lovell for owners Mark Feld of Lucas Downs, Ltd and Mark Martinez of Agave Racing Stable. Roimes Chirinos was content to sit off the pace in the early stages of the race with Sweet Idea as the early leader. At the top of the stretch, he deftly guided her through an opening on the rail and she drew off by 2 1/4 lengths, crossing the wire of the 1 1/16 mile contest over the firm Connally Turf Course in 1:46.64.
"She always runs with all her heart and Roimes put a great ride on her," said Lovell. "The hole opened up for her. All she needs is a little daylight and she ran her guts out. He knows how to ride her; he's won many races on her and the filly just knows how to win; she's wonderful."
"Michelle's always given accolades to everyone else and I want to thank her," said co-owner, Mark Martinez. "She's taken this filly, who was a little sore when she got her and she's worked with her and won two stakes a bunch of allowance races. This filly was my grandmother's favorite filly of all time and she recently passed. I think 'Grams' was on the ride."
Sweet Idea, who had won two stakes this meeting on the main track, appeared very comfortable on the turf as she went to the lead under rider Quincy Hamilton. Trained by Bret Calhoun, Sweet Idea won the $75,000 Martanza Stakes and the $25,000 Space City Stakes earlier in the meeting before finishing second tonight.
"She's a very, very talented filly, and she always runs her heart out," said Hamilton. "That's one of those where you hate it for her more than you hate it for yourself getting beat because she just tries so hard every time. She likes to be on the front end, and she likes to have things her way. They pressed just a little bit early, and she responded well to that. Then down the lane, they just had a little bit more punch than she did. She didn't give it up without a fight, though. But it's nice to be back here. This is my home turf, and I always enjoy coming back."
Wild Encounter ($5.60) earned $27,000 for tonight's victory, boosting her career earnings to $104,500. La Raine of Terror was third followed by I B's Halo, Night Speeker, Olmosta, So Sorry, Betty Garr and Brushabybaby.