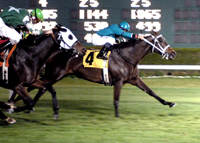 -photo by Sandra Beck/Coady Photography
-photo by Sandra Beck/Coady Photography
Wild Encounter Defends $50,000 Jersey Village Stakes Title at SHRP
Houston, Texas (February 10, 2008) - Five-year old mare Wild Encounter ($16.40) thrilled racing fans by defending her title for the $50,000 Jersey Village Stakes race at Sam Houston Race Park on Saturday, February 9, 2008. The mare, ridden by Richard Eramia, kept a close pace down the 1 1/16 mile turf course, fighting off a fast-closing surge by jockey Steve Bourque and Senora Tormenta to win by more than two lengths in a final time of 1:46:35.
Trainer Michelle Lovell remarked, "This mare has gotten bigger, stronger, older and more mature and she has gotten better every time! I'm very proud of her. She's got the biggest heart and is so brave; she'll go anywhere you tell her." Lovell added that, "She can win off the lead. Richard rode her really well and nursed her along; she held off those other horses coming."
Wild Encounter has a strong record on SHRP's Connally Turf course, as she dead-heated for a win in the 2006 San Jacinto Stakes on Texas Champions Day with Tunnel Time, who also participated in the Jersey Village.
The field of 10 fillies and mares was a solid line up of talented racers, including previous stakes winner Hollye Lynne, who won the $75,000 Martanza Stakes on Texas Champions Day in 2007.
The top three finishers for the $50,000 Jersey Village Stakes race were Wild Encounter, Senora Tormenta, and Festive Rain.
When asked about Wild Encounter's future plans, Lovell said she, along with owners Agave Racing Stable, continue to take it one a race at a time and aim to perform well for the Connally Breeders' Cup Turf Festival at SHRP for the close of Thoroughbred season on Saturday, April 5, 2008.
Live Thoroughbred racing continues with races every Friday, Saturday and Sunday in February at Sam Houston Race Park. The Thoroughbred meet will conclude on Saturday, April 5, 2008. For more information, please visit www.shrp.com.