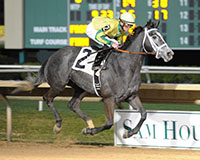 Promise Me Silver and Supermason Triumph in the Two Altazano and Jim's Orbit Stakes at Sam Houston Race Park
Houston, Texas (Saturday, February 14, 2015) - Convincing champions were crowned this evening at Sam Houston Race Park in both divisions of the Clarence Scharbauer Texas Stallion Stakes Series. Promise Me Silver kept her win streak alive in the $75,000 Two Altazano Stakes and Supermason was much the best in the $75,000 Jim's Orbit Stakes. The Texas Thoroughbred Association (TTA) renamed the series for accredited Texas-breds to honor the late Clarence Scharbaurer, Jr. who passed away in 2014.
Supermason Dominates in the $75,000 Jim's Orbit
Trainer Bret Calhoun was loaded with three entrants in the $75,000 Jim's Orbit Stakes for three-year-old colts and geldings. It was Supermason, owned by Brad Grady, who outclassed his five rivals with an impressive front running victory.

The son of Grasshopper, finished second in the $50,000 Groovy Stakes under rider Lindey Wade. This evening, Wade guided his charge to the lead, and was never in doubt, drawing off to a 14 length score. The final time for the seven furlong stakes, over a fast main track was 1:23.56.

"I am so thankful and blessed to have this opportunity to ride this nice horse," said the winning rider. "He put me out there early; he was nice and relaxed and at the 3/16th pole, he just broke out. It was nice!"

Calhoun was pleased with Supermason, a talented son of the first crop of Grasshopper.

"It was a long time getting here," admitted Calhoun. "He's been a little inconsistent mentally, but is starting to put it together."

Grady named his stakes winner after this young son, Mason, who has no qualms about jumping off high surfaces.

"My wife and I have put a lot in the game; it feels good to finally see some rewards," said Grady. "I thought he ran really well tonight."

This was the third win from nine starts for Supermason ($3.00), who competed in the ultra-tough $250,000 Springboard Mile at Remington Park on December 14.

Flying Frenchman ran second in his stakes debut for owner Ken Murphy Thoroughbreds Ltd. The son of Early Flyer is trained by Robert Young and was ridden by Adrian Ramos. Witt's Tax Day, under David Cabrera, was third.
Undefeated Promise Me Silver Ships in for the $75,000 Two Altazano
Promise Me Silver, bred and owned by Myrna and Robert Luttrell came into the $75,000 Two Altazano Stakes undefeated in five races. Trained by Bret Calhoun, the speedy filly, added another stakes win to her lofty record, with an effortless 9 ¾ score this evening.

She shipped in off her victory in the $100,000 Dixie Belle Stakes on January 15 at Oaklawn Park. Cliff Berry made the trip from Arkansas to pilot the gray daughter of Silver City, and was a very comfortable passenger aboard the 1-9 betting choice.

"She handled things nice and easy tonight," said Berry. "She's a racehorse. Bret's made me a lot of money, and I appreciate him letting me ride this one. She's right at the top of the best I've ever ridden."

Calhoun was pleased that his filly had an easy win as some of her previous victories were extremely hard fought.

"She has been great from day one," said Calhoun of Promise Me Silver. "She's got a lot of class; takes a lot of talent, a good mind and a lot of heart to make a champion; she's got it all."

Infectious, bred by Will S. Farish, winner of the $50,000 Bara Lass Stakes here on January 16, ran second under Deshawn Parker. The daughter of Valid Expectations held off Tea for Two by a margin of six lengths.
Promise Me Silver, paid $2.10 for the win, adding $45,000 for tonight's victory. Her record now stands at 6 for 6 with $259,355 in earnings.
This was the second year in a row that Calhoun swept the Texas Stallion Stakes at Sam Houston Race Park. Last year, Ibaka won the Jim's Orbit and Fiftyshadesofgold was much the best in the Two Altazano.

The Texas Thororoughbred Association recently announced Fiftyshadesofgold as the 2014 TTA Horse of the Year. She has been retired and will be bred to Tapit.
Magna Breeze Sets a New Track Record in the $50,000 Jersey Village Stakes
The third stakes of the Saturday evening card was the $50,000 Jersey Village Stakes with a field of ten accredited Texas-breds competing at a mile and one-sixteenth over the Connally Turf Course.

The winner, in a track record setting performance, was Magna Breeze, owned by William J. Buck Butler and trained by Mike Maker. The five-year-old son of Magna Graduate finished third in the $50,000 Richard King Stakes on opening weekend, but truly graduated tonight under a well-timed ride by Cliff Berry. He was positioned fourth in the early stages, with splits of :23.71, :48.08 and 1:12.07, then swung wide to take control and finish in 1:42.80. The winning time established a new track record, besting the previous of 1:43.24 set by Luna Delight on December 4, 1998.

The veteran Berry had a very calm ride aboard the bay gelding, who was saddled by Dallas King, one of Maker's assistants.

"Mr. Maker doesn't give too many instructions," said Berry. "He lets you look at the form and do what you want to do. The 2 (Special UFO) was eager to go, so I sat behind and stayed comfortable. He actually went before I asked him, but it turned out pretty good!"
Magna Breeze, sent off as the $1.40-to-1 choice, paid $4.80 for the win. Rule Breaker, owned by P and D Racing Stable, rallied for second under Alfredo Sigala, and the always game Fly the Red Eye finished third, followed by Seeking West.