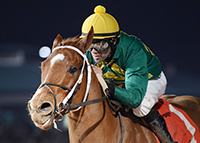 Markeshift
-photo by Coady Photography
Makeshift and Worldventurer Triumph in the $75,000 Two Altazano and $75,000 Jim's Orbit at Sam Houston Race Park
Houston, Texas (Saturday, February 16,2013) - A cool, clear evening tonight at Sam Houston Race Park set the stage for an exciting renewal of the $75,000 Jim's Orbit and the $75,000 Two Altazano. The stakes races are supported by the Texas Thoroughbred Association (TTA) for progeny of nominated Texas stallions.

Six fillies were entered in the Two Altazano, a stakes renamed in 2005 to honor the prolific race mare Two Altazano, who won the inaugural Sam Houston Oaks as well as the Grade 1 Coaching Club American Oaks for the late Harold V. Goodman.

It was another talented filly by Too Much Bling who took top honors in the Two Altazano as Makeshift was victorious for owner Will S. Farish. Jockey Roman Chapa sat patiently aboard the chestnut filly until he saw an opening on the rail at the top of the stretch and drew off in commanding fashion. Makeshift was making just the fourth start of her career and her stakes debut for trainer Steve Asmussen. She completed the one-mile stakes in a final time of 1:40.04 over a fast track.

This was the second year in a row that Asmussen, Chapa and Farish won the Two Altazano, as Color Code was the 2012 champion. Chapa had high praise for his filly's performance, and her effort in her second start around two turns.

"It just takes a lot of patience," said Chapa. "I had to wait and get the right opening. When I asked her to go, she did it so easily. My filly really relaxed for me."

Danny Shifflett is the farm manager for Lane's End Texas, where Too Much Bling has stood since 2010.

"His numbers are phenomenal," said Shifflett. "This is his ninth stakes winner in his third crop and 19th stakes winner in three seasons."

Tastefullyxcessive owned by Clarence Scharbaurer, Jr., and trained by Bret Calhoun ran second under rider Cliff Berry.

"She ran well for her first time going a mile," said Berry.

Platinum Song ran third for trainer Danny Pish and rider Gerardo Mora. The daughter of My Golden Song was honored earlier in the evening as the Texas Thoroughbred Association Champion Two-Year-Old Filly. Her owner, Scott Brown, was on hand to accept the award at the annual TTA Meeting and Awards Banquet.

Sent off as the second betting choice, Makeshift paid $6.40 for the win and added $45,000 to her career bankroll.

Six colts and geldings went to the starting gate in the $75,000 Jim's Orbit, also at one mile. The stakes honors Jim's Orbit, a multiple graded stakes champion, owned and bred by James E. Cottrell, whose most notable victory came in the 1988 Grade 2 Ohio Derby.

Worldventurer ($3.40) held the experience edge in the Jim's Orbit, fresh off a victory in the seven-furlong $50,000 Groovy Stakes on opening weekend. Cliff Berry had the return call for trainer Bret Calhoun and tracked the pacesetter Meme Jo, who completed the first quarter in :24.51 and the half-mile in :48.60. Wordventurer rallied on the outside and crossed the wire in 1:39.44.

The son of Wimbledon was bred by Clarence Scharbaurer, Jr., and purchased for $14,000 by Wesley Melcher of Dallas, Texas. This evening marked the fourth win from 10 starts for Worldventurer, who topped $200,000 in career earnings with the Jim's Orbit victory.

"He ran a really great race," said Calhoun. "He'd been a good horse for us as a two-year-old and is starting his three-year-old season very well. Cliff does a great job for us and had the horse placed perfectly."

Melcher accepted the Champion Two-Year-Old Colt/Gelding Award at the TTA Awards ceremony for Worldventurer, and continues to be proud of the striking gray gelding.

"Bret's done a great job with him," commented Melcher. "The horse has been amazing and has gotten better in every race. I was a little worried when I saw the fractions, but when he got away, I knew he had it as he always closes well."

This was the stakes debut for Meme Jo, a son of Too Much Bling, who is trained by Karl Broberg.

"He ran good and is really starting to figure things out," Murphy said of runner-up Meme Jo. "He put his heart into it."

Breathethefire was third, followed by Absotively, Pop Chart and Ivan Fallunovalot, who was making just his second start for owner Tom Durant.