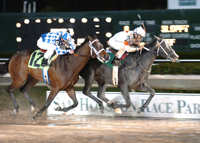 Ablaze With Spirit
-photo by Jack Coady/Coady Photography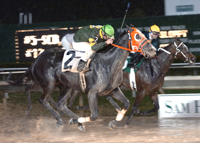 Classie Baloo
-photo by Jack Coady/Coady Photography
Classie Baloo & Ablaze With Spirit Highlight Texas Stallions Stakes at Sam Houston Race Park
Houston, Texas (February 17, 2008) - Sam Houston Race Park showcased an evening of racing upsets amid a deluge of rain storms during the Texas Stallions Stakes Races on Saturday, February 16, 2008. The Texas Thoroughbred social event featured two high dollar stakes races, the $125,000 Jim's Orbit Stakes and the $125,000 Two Altazano Stakes, both of which resulted in unlikely horses claiming top honors.
As rain storms intensified at SHRP at the start of Race 5, the $125,000 Two Altazano Stakes Race, featuring a field of 10 fillies, loaded into the gates under sloppy track conditions. Classie Baloo ($40.40), the three-year old daughter of Uncle Abbie, was a 19-1 longshot to win. Under the strategic guidance of jockey Perry Whetstone, she made her move on the back portion of the muddy one-mile course to eclipse front-runner Surfboard, who was battling the last stages of the course alongside Island in the Sand. Classie Baloo crossed the finish line with a final time of 1:43:21, followed by Surfboard and Island in the Sand.
Trainer Tony Edison remarked, "This horse isn't afraid of the rain and loves the mud, so we were confident she would perform well tonight. She was really picking the competition up and laying them down."
Classie Baloo is owned by Diane M. Greiner.
The stakes race was named in honor of Two Altazano, winner of the Sam Houston Oaks and the Grade 1 Coaching Club of American Oaks in 1994. Uncle Abbie's daugher Wrenice also claimed the title in last year's race, along with two other stakes races, and was named SHRP's 2006/2007 Horse of the Meet.
The eighth race of the evening, the $125,000 Jim's Orbit Stakes Race, showcased a field of 11 three-year old males squaring off in a one-mile contest. With sloppy track conditions prevailing even as the rain subsided, the Steve Asmussen-trained Ablaze With Spirit ($8.60), making his debut at SHRP, emerged victoriously by flying down the last portion of the course under jockey Shaun Bridgmohan and edging out Gold Coyote and Summer Ballad at the wire in a final time of 1:39:97.
Owners Bill and Corinne Heilgbrodt watched the horse pull off the win and commented that they thought the horse "handled the muddy course extremely well."
Sam Houston Race Park will host Texas Independence Day on Saturday, March 1, and a special St. Patrick's Day event, including live Thoroughbred racing, Irish-themed food and drink specials, and a variety of holiday promotions on Saturday, March 15.