Going Away Baby
-photo by Jack Coady/Coady Photography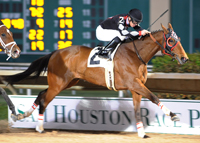 Hidden Recipe
-photo by Jack Coady/Coady Photography
Going Away Baby and Hidden Recipe Capture the $100,000 Two Altazano and $100,000 Jim's Orbit Stakes at SHRP
Houston, Texas (February 19, 2011) - Trainer Bret Calhoun had two reasons to feel great about tonight's stakes at Sam Houston Race Park. Calhoun had the favorites for both features, the $100,000 Jim's Orbit and the $100,000 Two Altazano, but neither would see the winner's circle in the two stakes sponsored by the Texas Thoroughbred Association (TTA) for progeny of nominated Texas stallions.

Going Away Baby, owned by George A. Wolff, had a runaway trip under rider Junior Chacaltana, to prevail in the $100,000 Two Altazano. The stakes is named in honor of Two Altazano, winner of the Grade 1 Coaching Club American Oaks in 1994. She also won the inaugural Sam Houston Oaks that same year with Hall of Fame jockey Pat Day.

"They told me to follow the one," said Chacaltana. "The one broke bad, so I had to go no matter what; I had a lot of horse."

Patty's Pride, a three-year-old daughter of Special Rate, started the race with a four to five odd. After a slow response on the run down she all but stopped in the stretch, surprising many.

Behind Going Away Baby was Intimidating Woman followed by Bonnies Judge.

A full field of ten colts and geldings went to the gate in the $100,000 Jim's Orbit, named for the legendary Texas racehorse, who won the Grade 2 Ohio Derby and competed in the 1988 Kentucky Derby.

Starting well placed, Hidden Recipe, owned by Tom Durant, took command after the far turn and maintained his strong drive to the end under rider Chris Landeros.

"Everything happened exactly how I wanted it," said Landeros. "I wanted to get outside and get brave. Pace was good and he was going easy. When I asked him to run in the end, he did."

Maverick Prince demanded a photo finish to claim his second place finish.

Heavy favorite Tamtastic looked like he might be able to overcome his far outside post position and win the Jim's Orbit under current leading rider, Quincy Hamilton, but the turn proved to be too much only allowing him to show.