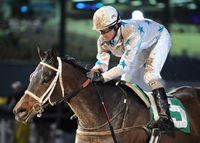 Defiant Flyer
-photo by Jack Coady/Coady Photography
Color Code and Defiant Flyer Score in the $100,000 Two Altazano and Jim's Orbit at Sam Houston Race Park

Houston, Texas (Saturday, February 18, 2012) - The third leg of the Texas Stallion Stakes Series took place at Sam Houston Race Park this evening and two completely different running styles made for very exciting racing action. It was a front-running score by Color Code in the $100,000 Two Altazano and a huge run from off the pace by Defiant Flyer in the $100,000 Jim's Orbit. Both stakes were supported by the Texas Thoroughbred Association (TTA) for progeny of nominated Texas stallions.

In 2005, the TTA renamed each of the Texas Stallion Stakes races to honor a famous Texas Thoroughbred. The colts and gelding division at Sam Houston Race Park has been named for Jim's Orbit, who won the Grade 2 Ohio Derby and started in the 1988 Kentucky Derby. The fillies division is a tribute to Two Altazano, winner of the Grade 1 Coaching Club American Oaks in 1994. The accomplished mare, owned by the late Harold V. Goodman, was inducted into the Texas Horse Racing Hall of Fame in 2003.

The $100,000 Two Altazano, Color Code, owned by Will S. Farish, set the pace from her inside post and never relinquished the lead. Jockey Roman Chapa and trainer Steve Asmussen have been a formidable duo, winning the last three stakes of the Sam Houston Thoroughbred meeting.

The daughter of Too Much Bling ran the first quarter in :24.04 and covered the half-mile in :48.06. At the top of the lane, Chapa had plenty of filly left, drawing off to a four-length victory, covering the mile in 1:39.93. Mary Johnson, daughter of owner Will S. Farish, was on hand to accept the trophy.

"The filly just broke out in front and really relaxed for me," said Chapa. "My fractions were slow, but when it was time to go, she gave it all. It kind of surprised me, but at the 3/16th pole, she just went on. It was a thrill to ride her today."

Trainer Steve Asmussen flew into Houston this evening, just missing the race, but liked what he saw on the replay.

"She's a nice filly," said Asmussen. "It worked out well. Roman gave her a great trip and she handled the mile. It was nice to see her win again. Hopefully she's got a few more in her."

Nothinbettertodo, owned by Clarence Scharbauer, Jr. and trained by Bret Calhoun, was second in the $50,000 Bara Lass here on January 20, and runner-up again this evening.

"Everything went well," said rider Cliff Berry. "The pace might have been a little slow, but she ran a good race."

Color Code ($7.60) added $60,000 to her career bankroll, topping the $100,000 mark in earnings. Cowgirl N Up, Miss Lederhosen, Avec Glass and Shewantsaprenup completed the order of finish.

Seven colts and geldings went to the starting gate in the $100,000 Jim's Orbit, also at one mile, and the front-running Sword Trick set the early fractions under Cliff Berry. Owned by Clarence Scharbaurer, Jr., Sword Trick won the $50,000 Groovy Stakes on Texas Champions Day weekend and was honored as the Texas Thoroughbred Association's 2-year-old champion. But Defiant Flyer, who shipped in from Hawthorne Park, made a huge run in the final furlong and drew off to a 1 ¾ length victory. Jockey Jesse Campbell rode the son of Early Flyer for trainer Liane P. Davis and owner Double D. Stables. He relished the distance of one mile, winning in a final time of 1:39.94.

"To be honest, that's the reason I flew in for the race," said Campbell. "Liane said this horse will get the distance; that's why we came."

"This horse is really special," said Davis. "We left a week ago from Chicago. I wasn't sure he would even draw into the race based on earnings. I want to thank Jesse for a great ride, my partner Steve Lewis, who has been part of our family for 15 years and my husband, Hershel. That's his baby; I don't know whether I could have gotten him ready without his hard work."

Davis admitted that his running style can be a tad stressful at times.

"I call him my heart attack horse, but I told Jesse that when he hits the go button, help him change leads the do the best you can," added Davis. "You never know if speed will hold, but I am so proud of his effort tonight."

Defiant Flyer, sent off at 11-1, paid $25.20 to win. Boca Bay ran second, followed by Sword Trick, Patchwork, Swass Like Me, At Full Pelt and Runholeinthewind.