Coyote Legend
-photo by Jack Coady/Coady Photography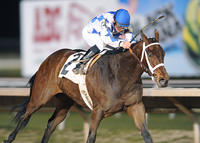 Tin Top Cat
-photo by Jack Coady/Coady Photography
Bret Calhoun & Bobby Walker, Jr. Sweep the Field in Tonight's Texas Stallions Stakes at Sam Houston Race Park
Houston, Texas (February 20, 2010) - Sam Houston Race Park hosted an exciting evening of live racing, with over $300,000 in purse money on Texas Stallions Stakes Day this Saturday, February 20. The premier race day featured 10 live Thoroughbred races, including the $125,000 Jim's Orbit Stakes and the $125,000 Two Altazano Stakes, along with a free handicapping seminar featuring ESPN's Fred Faour and SureBet Racing News' Martha Claussen and Greg Thompson.
The $125,000 Jim's Orbit Stakes, the eighth race on the card, featured three-year-old colts and geldings racing one mile on the dirt track. Favorite Coyote Legend (7-2) broke well, but Claybird (6-1) took the early lead. Claybird kept the pace for the 11-horse field through the last turn, with Coyote Legend holding steady in third. However, in the final stretch, with a quarter-mile mile to cover, Coyote Legend rallied three wide, broke away and finished a commanding 8 ½ lengths ahead of the field in a time of 1:38.74.
The three-year-old gelding is trained by one of The Park's leading trainers, Bret Calhoun, and owned and bred by Clarence Scharbauer, Jr. Accepting the trophy on behalf of Scharbauer was Valor Farm General Manager Ken Carson. Carson praised the gelding, noting "He always wins big."
Riding Coyote Legend to victory for his third straight win was jockey Bobby Walker, Jr.
"I knew I had the best horse coming into this race, and as long as it was a clean race, we were going to win," commented Walker, Jr.
The dark bay gelding paid his betting fans $3.60 for the win.
Final placement in the Jim's Orbits Stakes featured Big Texas Daddy in second; April's Picture in third; followed by Set Expectations, Royal Hay Patch, Valid Heart, Andrew's Allowance, Early Dancer, Claybird, Lastnightonearth and Just Luck.
The $125,000 Two Altazano Stakes, the ninth race on the night's card, featured the team of Calhoun and Walker, Jr. back in the winner's circle, garnering back-to-back wins. Tin Top Cat had a tremendous break out of the starting gate but settled in and kept with the pace. Coming into the last turn, the three-year-old bay filly had dropped back into fourth, waiting behind the pacesetters until the final furlong, where she rallied from the inside rail and closed well to gain the lead under incredible guidance from her jockey.
"She's so quick leaving the gates, so I knew we wouldn't have any problem with that," commented jockey Bobby Walker, Jr. "The seven horse was my competition for most of this race, so I knew I had to let her settle until that final turn, where she just slipped in and took the lead down the inside rail."
Trained by Bret Calhoun and owned by Jerry Durant and Bill Jordan, Tin Top Cat bested the 11-horse field in a time of 1:40.70.
"She's gotten so good," commented Durant. "She broke her maiden in a stakes race, and she's done so well for us. We have a great team, and that's what it takes."
In addition to the stakes victory, Durant's brother, Tom Durant, was awarded the 2009 Texas Thoroughbred Association's (TTA) Leading Accredited Texas-Bred Money-Earner Owner/Breeder Award during tonight's TTA Awards Ceremony held at The Park.
Finishing second in the Two Altazano Stakes was She's A Bond Girl at 70-1 odds, rewarding her betting fans with a hefty payout of $32.20. Final placement in the one-mile race featured Camille's Appeal in third and Bless You Child in fourth. New Elite, Dixieland Baby, Proud Player, Meg's Expectations, Moonbeam Special, Aalecia and Sweetsweetramona rounded out the field.
The celebration also highlighted fantastic dining packages in the Winner's Circle restaurant, between-race promotions from Verizon Wireless, Bud Light, Gallery Furniture and L'Auberge Du Lac Casino Resort and a free handicapping seminar with ESPN personality Fred Faour, and Greg Thompson and Martha Claussen of SureBet Racing News.