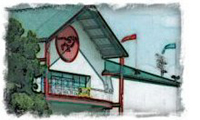 Sam Houston Sprint Cup to Be Contested on Saturday, February 22 at Sam Houston Race Park
Houston, Texas (Thursday, February 20,2014) - This weekend's feature at Sam Houston Race Park is the $50,000 Sam Houston Sprint Cup Stakes. A compact, but potent field of six will compete in the six furlong contest on Saturday, February 22.

Trainer Karl Broberg has a stalwart duo of Heitai and Triumph and Song in the stakes, which will run as the sixth race of the card. Top Louisiana jockey Diego Saenz will ride Rowell Enterprises, Inc's Heitai. The 4-year-old son of Fusaichi Pegasus has won his last three stakes, most recently setting a new track record for the distance of five furlongs at Delta Downs on February 1. Houston racing fans are very familiar with Broberg's other starter, Triumph and Song, who notched back-to-back stakes wins in the $50,000 Spirit of Texas Stakes and $50,000 Bucharest Stakes for owners, H & H Ranch. Jockey Junior Chacaltana will guide the 5-year-old son of leading 2013 Texas stakes sire, My Golden Song.

Multiple-stakes winner Solar Charge, Flat Back, Holiday Weave and Silver Lining John, complete the field.

Live racing on Saturday evening gets underway at 7:00 p.m. (CT) and will also include two Arabian stakes, the Grade 2, $30,000 Texas Six-Shooter and Grade 2, $30,000 Texas Yellow Rose.

Sam Houston Race Park will host Ladies Night on Saturday, February 22 with free admission for all female patrons and $2.00 wine specials.
Fiftyshadesofgold Made Strong Impression Last Saturday at Sam Houston Race Park

Promising filly Fiftyshadesofgold lived up to her star billing last Saturday night as she won the $75,000 Two Altazano Stakes in effortless fashion. The 3-year-old Clarence Scharbauer, Jr. homebred made her return to action following an injury last August at Saratoga. Trained by Bret Calhoun, and ridden by Rosie Napravnik, Fiftyshadesofgold drew clear by 2 1/2 lengths.
Calhoun reported that she came out of the race in good order and vanned back to his Fair Grounds base on Sunday morning.
"It couldn't have gone any better," said Calhoun of her comeback race. "She closed just the way we wanted and wasn't used too hard. It was a nice test for stretching out, and showed us she is screaming for two turns."
Calhoun has decided that she will remain at Fair Grounds and train for the Grade 2, $500,000 Fair Grounds Oaks on March 29 as a prep for the Grade 1, Kentucky Oaks at Churchill Downs.
The only downside of her performance was her post race winner's circle appearance where she kicked Calhoun's longtime assistant, Jay Severs, hard in the shin.

The force of the impact tore a hole in his jeans and had the affable assistant limping that evening.

"I have stood beside horses in close to 4,000 photos and never been kicked," said Severs. "She full on got me. A friend called me and asked if I was going to call a doctor or a lawyer!"
Her victory was not the only highlight of the week for Calhoun, who learned he is one of the inductees into the Fair Grounds Hall of Fame which will take place on March 12 at Fair Grounds Race Course & Slots.
Jockey Gerardo Mora in Pursuit of Second Riding Title Here
A very exciting battle is heating up for leading riding honors at Sam Houston Race Park and last year's champion, Gerardo Mora is working very hard to claim the title again this year.

The 21-year-old rider is attracted considerable attention in 2013 for his well-timed finishes and versatility in mastering both the turf and main track. Coupled with his strong work ethic and humble personality, Mora has many supporters.

Born in Palestine, Texas, Mora began working horses in Louisiana four years ago, and made his professional debut as an apprentice at Retama Park near San Antonio in 2011.

The 2014 Sam Houston Race Park Thoroughbred meeting kicked off on January 17, and Mora started slowly, but has been firing on all cylinders over the last three weeks. He is the current leader with 22 wins over veteran rider Deshawn Parker, who has won 21 races through February 18.

"Last year was the same," acknowledged Mora. "Not too many wins in the first two weeks, but things got better toward the end."

He is grateful to trainers including Danny Pish, Steve Asmussen, Jack Bruner and Joe Offolter for naming him on good horses.

On February 15, Mora confidently guided Quiet Acceleration to victory in the $50,000 Jersey Village Stakes for Pish, coming from off the pace to win a head bob at the wire.

"He's a competent young rider with a very good work ethic," notes Pish. "I like the fact that he works every day to get better, and remains grounded and very humble."

Mora admires Parker as well as Glen Murphy, who has been a mentor for the past two years in Houston.

Toby Cathey is Mora's agent and the two men have a solid bond.

"This kid is a pleasure to be around," states Cathey. "He strives to be not only a good rider, but a good person. He watches races and looks at his replays, always wanting to learn and improve."

Mora has enjoyed the recent change in the weather with clear skies and warmer temperatures.

"We had a few really cold, rainy days and that was no fun," admitted Mora. "I had to stay closer to the pace on the off track as getting hit by mud when you are trailing can be pretty rough."
Mora added a second riding title several months ago when he captured top honors at Retama Park in San Antonio. He is focused on riding well for the remainder of the Sam Houston meet, which concludes on March 11.

"I'm not thinking about the title," states Mora. "I just want to go out and do my best in each race."
Nominations Close for Maxxam Gold On February 20
Nominations close on February 20 for the $100,000 Maxxam Gold Cup and the Sam Houston racing office is encouraged by the interest for the mile and one-eighth handicap for older horses.

The Maxxam Gold Cup has produced exceptional champions since its first running in 1994, including Sir Cherokee, Valhol, Student Council and Alumni Hall.

The Saturday, March 1 card will also include two additional stakes: the $50,000 Jersey Lilly Stakes for fillies and mares on the turf and the one-mile $50,000 Texas Heritage Stakes for 3-year-olds. Last year Departing was a convincing winner of the Texas Heritage Stakes and enjoyed an exceptional year for owners Claiborne Farm and Adele B. Dilschneider. The Kentucky-bred gelding ran third the Grade 2, $1,000,000 Louisiana Derby and was victorious in the $750,000 Illinois Derby. Following his sixth-place finish in the Grade 1, Preakness Stakes, Departing came back in great form, capturing the $750,000 West Virginia Derby at Mountaineer Park as well as the $500,000 Super Derby at Louisiana Downs. He has amassed career earnings of $1,403,500.