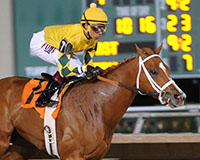 Bravura
-photo by Coady Photography
Thievery and Bravura Victorious in the $75,000 Two Altazano and $75,000 Jim's Orbit Stakes
Houston, Texas (Saturday, February 20, 2016) - An enthusiastic crowd was on hand this evening at Sam Houston Race Park for an entertaining mix of Wiener Dog Races and two quality fields competing in the Clarence Scharbauer Texas Stallions Stakes Series.
Thievery pulled a minor upset in the $75,000 Two Altazano Stakes, and Bravura was much the best in the $75,000 Jim's Orbit Stakes. The Texas Thoroughbred Association (TTA) renamed the series for accredited Texas-breds to honor the late Clarence Scharbaurer, Jr. who passed away in 2014.
Bravura Dominates in the $75,000 Jim's Orbit
Last month Victoria Ashford's homebred Bravura was a convincing winner in the $50,000 Groovy Stakes. He was heavily favored for tonight's $75,000 Jim's Orbit and did not disappoint. Jockey C. J. McMahon guided the chestnut colt from his far outside post to the lead and won the six-furlong stakes in 1:10.59, one of the quickest times of the 2016 Sam Houston Race Park meet.

"We expected a great race, and he delivered," said Calhoun. "I was glad to see him get away so quickly. This colt's very sharp, and. C. J. fits him very well."

"He walked into the gate and stood perfectly," said McMahon. "He left there on his 'A' game. When the other horse ran to us, I squeezed and he ran on. He never ceases to amaze me."

Ashford was extremely proud of her Early Flyer colt.

"I've bred horses for 25 years, and this was my first Texas Stallion Stakes," said Ashford. "It means everything to me. Bret told me from the beginning to be patient; that this colt had talent and we just needed to give him time. That's what we tried to do."

This was the third Jim's Orbit victory for Calhoun, who trained 2014 champion, Ibaka and last year's winner, Supermason. He indicated that Bravura would make his next start at Lone Star Park.

This was the third win in a row for Bravura ($3.60), whose bankroll topped the $100,000 mark this evening. Keene Thoroughbred LLC's Silver Doddge was runner-up in the Groovy with David Cabrera aboard, followed by Jet Over under Lindey Wade, and Imma Bling.
Thievery Closes for the Victory in the $75,000 Two Altazano
Trainer Steve Asmussen won two previous editions of the Two Altazano with Color Code in 2012 and. Makeshift in 2013. Tonight he pulled a mild upset with Thievery, a Valid Expectations filly owned by the Ackerley Brothers Farm. She ran second to Too Much Prada in the Texas Stallion Stakes last September and put it all together this evening with a very confident ride from current leading Sam Houston jockey Iram Vargas Diego.

The bay filly sat off the front runners, mounting a bid at the top of the stretch and won by a neck in 1:12.16.

"She is so nice and gave me everything," said Diego. "Riding for Steve is a dream come true."

John Cilia, racing manager for Ackerley Brothers Farm, was on hand to accept the trophy.

"It was nice that she got back on a fast track," said Cilia. "She caught some off tracks in Louisiana. It's very gratifying to win a stake at Sam Houston, as Houston is home for Bob and Lee (Ackerley), Steve picked out the dam for this filly. Valid Expectations was Bob and Lee's first big runner. He died last year, so we miss him, but this filly carried on his legacy."

"She's a very nice filly," said Asmussen via a phone interview following the stakes. "Valid Expectations has meant a great deal to me and my family."

Diego is the current leading rider at Sam Houston Race Park and is riding first call for the Asmussen barn.

"He is doing a very good job for us," added Asmussen. "He and Pablo (Ocampo, assistant trainer for the Houston string) get along well, and it has worked out well."

Bara Lass runner-up Indygo Rocket, owned by Riley and Ronald Morgan, ran second under David Cabrera, and Easter Elle completed the trifecta. Hall's Family Trust's homebred Too Much Prada, who won the Bara Lass, ran fourth.

Cosmo Cassis, a Grasshopper filly bred and owned by Fletcher Properties, Inc., broke her maiden by a convincing 11-length margin under Lindey Wade. Trained by Robert Young, the betting public made her the even money favorite, but she was never engaged in the race and ran fifth.

Thievery paid $13.20 as the fourth betting choice. She earned $45,000 for the Two Altazano win, which was just her second victory in ten career starts.
Roxy Defends Title in the Wiener Dog Races
Roxy, a four-year-old Dachshund owned by Tonya Drach of Copperfield, was the winner, in a photo, of the 2016 Wiener Dog Races at Sam Houston Race Park. A total of 52 dogs entered the starting gate to the delight of an overflow crowd this evening. Roxy won the second race, and earned a position in the starting gate for the final against Lexie, Noodles, Mocha Brown, Tillie, Floyd and Hans Solo.

How did her owners keep her in top form for this year's competition?

"Lots of trips to the dog park," said Drach.
Maxxam Racing Festival Set for Saturday, February 27
The draw took place this morning for the Maxxam Racing Festival, which features four stakes on Saturday, February 27. Full fields will compete in the $100,000 Maxxam Gold Cup, $50,000 Jersey Lilly, $50,000 Bucharest Turf Sprint and $50,000 Texas Heritage Stakes.

The Maxxam Gold Cup has produced exceptional champions since its first running in 1994, including Valhol, Student Council, Alumni Hall and Red Rifle. Last year's winner was Albano, bred and owned by Brereton Jones and trained by Larry Jones.