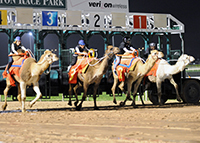 -photo by Coady Photography
Camel and Ostrich Races Return to Sam Houston Race Park on Friday, March 7 and Saturday, March 8
Houston, Texas (Thursday, March 6, 2014) - Sam Houston Race Park will present the third annual Camel and Ostrich Races on Friday, March 7 and Saturday, March 8. The wildly popular special event attracted huge crowds last year and a decision was made to expand the festivities to two nights this year.

Racing fans will enjoy ten live races, including the $30,000 Sheikh Zayed Bin Sultan Al Nahyan Cup and $25,000 HH Sheikha Fatima Bint Mubarak Ladies IFAHR Cup , which will be contested on Saturday evening. In between races, at approximately 8:00 p.m., members of the Sam Houston Race Park jockey colony will test their balance and agility on the super-fast ostriches as they sprint 100 yards on the main track.

Four brave local celebrities will get a leg up on the eight-foot tall camels and race 100 yards in front of the fervent crowd. This year's celebrities on Friday night are Andrea Young, Sam Houston Race Park's President; Dinah Powers, Rod Ryan Show The Buzz; Connected K, The Eagle and Samica Knight, ABC Channel 13.

The Saturday night races will feature a rematch between 2013 champion, Chita Johnson, KHOU Channel 11 and Sarah Pepper, Hot 95.7. They will be joined by Lauren, Mix 96.5 and Special K, 104 KRBE.

Gates will open at 5:00 p.m. on both Friday and Saturday evening, with the first Thoroughbred race set for 7:00 p.m. For more information and updates on this unique and family-friendly evening, visit shrp.com.
$30,000 Sheikh Zayed Bin Sultan Al Nahyan Cup and $27,500 HH Sheikha Fatima Bint Mubarak Ladies IFAHR Cup to be Contested Saturday
Arabians will compete in two featured stakes on Saturday evening. A field of 11 fillies will compete in the $41,000 HH Sheikha Fatima Bint Mubarak Ladies World Championship IFAHR Cup, at a distance of seven furlongs.

The race will feature all female jockeys for the third year in a row. Sandee Dee Martin will ride RB Burn Baby Burn, who returns off a gate to wire score in the Grade 2, $30,000 Texas Yellow Rose on February 22. Trained by Jerenesto Torrez, the four-year-old daughter of TH Richie is owned by Rosebrook Farms LLC and is undefeated at Sam Houston Race Park. Texas She has been installed at odds of 4-1 and will get a test from Yellow Rose runner-up, Dhaan. The Texas-bred filly will break from post position ten under jockey Michelle Blumenauer.

The $41,000 HH Sheikha Fatima Bint Mubarak Ladies World Championship IFAHR Cup will run as the eighth race of the Saturday evening card and will be followed by a field of nine colts and geldings in the Grade 1, $47,000 HH Sheikh Zayed Bin Sultan Al Nahyan Cup.

Burning Fleet, winner of the Grade 2, $30,000 Texas Six Shooter two weeks ago, has been installed as the 3-1 morning line choice in the seven furlong stakes. Jockey Ernesto-Valdez-Jiminez has the return call aboard the four-year-old Burning Sand colt for owners Joseph and Betty Gillis of Columbus, Mississippi. Torrez trains the stakes winner, who will be making his fifth career start on Saturday night.

Bill Waldron's homebred Grilla is likely to get his share of attention in the $30,000 HH Sheikh Zayed Bin Sultan Al Nahyan Cup. The eight-year-old set a track record at Sam Houston Race Park. The multiple graded stakes winner has bankrolled $199, 841and will be ridden by David Cabrera.
Lindey Wade Looking Forward to an Exciting Battle for the Riding Title Heading Final Week of the Thoroughbred Meet
A very exciting battle is heating up for leading riding honors at Sam Houston Race Park with just four days remaining in the 2014 Thoroughbred racing season.

Last year's champion, Gerardo Mora, was tied with veteran rider Deshawn Parker heading into the Tuesday, March 4 card. Mora won three races and now boasts 32 victories to 29 by Parker. However, there is a deep closer in the field, and that is 2011 Sam Houston leading rider, Lindey Wade.

Wade has been racking up wins over the last two weeks, and with 26 trips to the winner's circle, is in striking distance of the top two.

"Many of the horsemen were not aware I would ride the Houston meet, as I had gone to Oaklawn Park for the past two years," said the 23-year-old New Orleans native. "I was lucky that Bret Calhoun threw me a bone opening weekend and I won the Bara Lass (with Scooter's Choice)."

Both Calhoun and Kari Craddock have been strong supporters of Wade, who notched a very sweet stakes win last weekend aboard Ibaka, repelling very tough company in the $50,000 Texas Heritage Stakes.

"He surprised me with the way he handled two turns for the first time," admitted Wade. "I give Bret so much credit for the way he gets his horses prepared to run big every time."

Wade, who tied for the riding title here with his good friend, Quincy Hamilton, also won the title last summer at Lone Star Park.

Heading into the final weekend of the meet, Wade will continue to try to catch Mora and Parker, but win, lose or tie, he has admiration for both riders.

"This is a much deeper jockey colony than 2011," said Wade. "It's a great feeling to compete with top riders. I'm just thankful that things have come together and I have had such a successful meet."
Steve Asmussen Remains on Top in the Trainer Standings
Steve Asmussen, who has won five leading training titles at Sam Houston Race Park, has been in the lead throughout the meet and currently has 23 wins. Danny Pish has four titles here and is in second-place in the standings with 17wins. Eric Reed, who shipped a string to Houston for the first time this year, follows closely with15 victories.

Texas businessman Danny Keene has pretty much locked up the leading owner title as his horses have made 14 trips to the winner's circle. H and H Ranch, Kay Reed and Steve Asmussen are tied with four wins each.
Quarter Horse Racing Meet Begins on March 21
Sam Houston Race Park will host its annual Quarter Horse meet beginning Friday, March 21. The 24-day season will continue through Saturday, May 11 with post times set for Thursday and Friday at 7 p.m. and Saturday at 6 p.m.

The meet will feature 18 stakes races, commencing with the $20,000 Harris County Stakes on Saturday, March 22. Key stakes include the $100,000 Bank of America Texas Challenge Championship (G1) on April 12; the $100,000-added Sam Houston Futurity (G2) on April 19; the $50,000 Sam Houston Classic (G2) on May 3 and the $35,000-added Adequan Texas Derby Challenge on the final night of the meet, May 11. A complete listing of stakes and trial dates can be accessed on the Horsemen's page at shrp.com.