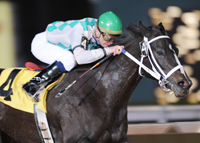 Littlemiss Allison
-photo by Jack Coady/Coady Photography
Real Appeal Races to Victory in the $50,000 Texas Heritage Stakes at Sam Houston Race Park
Houston, Texas (March 9, 2008) - Sam Houston Race Park hosted the $50,000 Sam Houston Oaks Stakes Race, a one mile race on the dirt track for three years old fillies, on Saturday, March 8, 2008. Jockey Paul Nolan served as mount for Canadian racehorse Littlemiss Allison ($10.40), who gained command of the race in the upper stretch and maintained a strong drive to hold off Timely Reflection and cross the wire in a final time of 1:39.19. With the win, Littlemiss Allison continues her undefeated racing season.
Final placement was Littlemiss Allison, followed by Timely Reflection, who took second place by of seven lengths over G.T. Ridge. The field included a total of nine horses.
Trainer Greg Tracy was initially concerned about his filly racing the one mile distance, but he explained that she"has been training really well and has won her last four races, so I was hopeful she would do her best and keep up the winning streak tonight."
Paul Nolan, who rode Littlemiss Allison for the first time, remarked, "I was up the rail, saving ground the whole way and Quincy [Hamilton] starts to come over and stop me from going through; but I had a lot of horse and sent her through. This filly gave a nice race. I have to give Greg [Tracy] and her all the credit. They did all the work and I was just a lucky passenger."
Littlemiss Allison will return to Canada and compete again in May in Calgary. She will continue to participate on the Canadian racing circuit for the remainder of the season.
Sam Houston Race Park will host a special St. Patrick's Day event including live Thoroughbred racing, Irish-themed food and drink specials, a handicapping seminar featuring Houston Chronicle racing writer Martha Claussen, and a variety of holiday promotions on Saturday, March 15, 2008. The Park will host the Connally Breeders' Cup Turf Festival, which features the most prestigious race of the meet, the Grade III John B. Connally Breeders' Cup, and marks the closing day of Thoroughbred season, on Saturday, April 5, 2008.
Live Thoroughbred racing continues with races every Thursday, Friday, Saturday and Sunday in March at Sam Houston Race Park. For more information, please visit www.shrp.com.