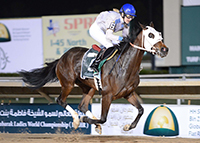 DC Willeys Son
-photo by Jack Coady/Coady Photography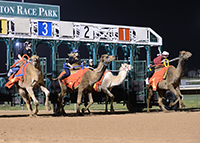 Start of Camel Race
-photo by Jack Coady/Coady Photography
Global Arabian Flat Racing Festival Including All-Female Rider Stakes Produced Exciting Finishes at Sam Houston Race Park
Houston, Texas (Saturday, March 9,2013) - Sam Houston Race Park hosted two prestigious Arabian stakes on Saturday, March 9. The $30,000 Sheikh Zayed Bin Sultan Al Nahyan Cup and $27,500 HH Sheikha Fatima Bint Mubarak Ladies IFAHR World Championship was one of just two United States stops in an international tour as part of the Global Arabian Flat Racing Festival.
A field of 12 fillies was assembled for the $27,500 HH Sheikha Fatima Bint Mubarak Ladies World Championship IFAHR Cup, at a distance of seven furlongs. The stakes featured all female jockeys for the second year in a row, and it was Sarah Leutwiler who guided DC Willeys Song to victory in commanding fashion. The five-year-old mare is owned by Jon R. Henningsgard of Waller, Texas, and trained by Jerenesto Torrez . This was the first stakes win in her career.

"The trainer wanted me to take her back off the pace," said Leutwiler. "But she was so keen to go on, I just let her run."

Torrez won the Grade 2, $30,000 HH Sheikh Zayed Bin Sultan Al Nahyan Cup last year with TM Fred Texas.

"She's a very nice filly," said the trainer, who has had her in his barn for one year.

DC Willeys Song completed seven furlongs in 1:35.59 and paid $8.00 for the win.
Sand On Fire, who was victorious in the Grade 2,$30,000 Yellow Rose here on February 23, ran second for trainer Elizabeth Brand and owner/breeder Jane Teutsch of Larkspur, Colorado, Sand on Fire was ridden by jockey Leonie Vethaak. Br Funny Money ran third followed by longshot TTT Dark Diamond.

A compact, but talented group of five colts and geldings showed their mettle in the Grade 2, $30,000 HH Sheikh Zayed Bin Sultan Al Nahyan Cup. Scoring a major upset was Krossfire CS, who drew off under rider Dakota Wood, and returned $21.80 to his backers.

Owned by Lorraine Cunningham of Floresville, Texas and trained by Rita Deleon, the four-year-old Texas-bred ran second in the Lone Star Arabian Futurity at Retama Park on December 8. Rider Alfredo Contreras was injured last night, so Deleon picked up the capable riding services of Wood.

"It was one of those accidents that turned out to be the best thing that could have ever happened," said Deleon.

Krossfire CS covered seven furlongs in 1:52.10 over a fast track. Heavy favorite So Big is Better ran second and Golly Bret completed the trifecta.
Camel and Ostrich Races a Big Hit at Sam Houston Race Park
For the second year in a row, Sam Houston Race Park presented exotic racing featuring Camel and Ostrich races. The family-friendly action attracted a crowd of 14,818 topping the record-setting attendance of 12,389 in 2012. Fans were able to root for their favorite camel and ostrich as they raced a distance of approximately 100 yards.

Jockey Jimmy Eiler piloted the winning ostrich, breaking cleanly from the rail and finishing by daylight over his four rivals.

"I came in second last year," said Eiler, who serves as an assistant starter at Sam Houston Race Park. "It was great to win; all I wanted to do was hold on."

The winning camel was "Camelionaire", ridden by Chita Johnson, KHOU Channel 11 meteorologist. She defeated "Kamala" with Houston Chronicle columnist Ken Hoffman aboard; "My Humps", ridden by Sarah Pepper of The Hot Show 95.7; and "Camela Anderson", who had a rough trip for radio personality Anson Ainsworth, of ESPN 97.5 Radio.

Johnson was ecstatic following the victory and donated her $500 first place prize to the United Way.

"I am so proud of my camel," said Johnson. "I was really nervous in the beginning, but he got me home. This is a memory of a lifetime!"
Monday Replaces Sunday Racing as Sam Houston Race Park Makes Adjustment in Race Dates for Final Two Weeks of Thoroughbred Meet
Sam Houston Race Park requested and received a change of live Thoroughbred racing dates in March. In a letter to the Texas Racing Commission (TRC), officials requested that the Sunday, March 10 and March 17 live dates be moved to Monday, March 11 and March 18. Since the beginning of the 2013 Thoroughbred racing season on January 18, Monday's handle has outperformed Sunday. The Thoroughbred meet will continue through March 18 followed by the 2013 live American Quarter Horse season, which gets underway on Thursday, March 28.