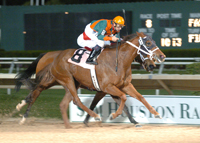 Moneyinmywranglers
-photo by Jenifer Juelsgaard/Coady Photography
Moneyinmywranglers Captures $50,000 Mission Stakes at Sam Houston Race Park
Houston, Texas (March 16, 2008) - Sam Houston Race Park hosted the $50,000 Mission Stakes Race, a seven furlong race on the dirt for fillies and mares, four years of age and up, on Saturday, March 15. Jockey Richard Eramia served as the rider for Moneyinmywranglers ($7.40), and the filly, coming off a 90-day break, settled in the beginning of the race and rallied on the final turn to finish with a strong drive, holding off Valid Lil in a final time of 1:24.86. Annie Savoy finished third in the seven-horse field.
Moneyinmywranglers' owner/trainer Sharon Barker knew the horse needed the race, stating, "She got a little tired because an allowance race didn't go for her last month, so it's been 90 days since she last ran. She was ready to run."
Jockey Richard Eramia remarked, "She's a good filly and runs hard in all of her races. In this race, she faced a lot of speed, and I sat in right behind the speed. She moved in the last quarter and finished well."
Moneyinmywranglers, who won the Space City Allowance race at SHRP in December 2007, has also gained the respect of her peers after putting up a battle to the wire. Jockey Bobby J. Walker, Jr., atop second place Valid Lil, commented on the finish, saying, "I had things pretty much my own way until he [Richard Eramia] came around, got by her by about a half of a length. She got a little tired down the stretch, but she ran hard and finished strong."
Sam Houston Race Park will host the Connally Breeders' Cup Turf Festival, which features the most prestigious race of the meet - the Grade III John B. Connally Breeders' Cup - and marks the closing day of Thoroughbred season, on Saturday, April 5, 2008.
Live Thoroughbred racing continues with races every Thursday, Friday, Saturday and Sunday in March at Sam Houston Race Park. For more information, please visit www.shrp.com.