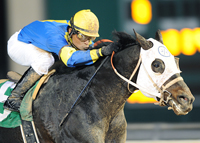 Fifteen Love
-photo by Jack Coady/Coady Photography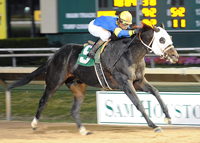 Fifteen Love
-photo by Jack Coady/Coady Photography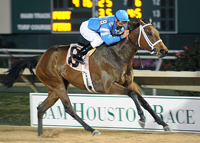 Bubbler
-photo by Jack Coady/Coady Photography
Longshot Fifteen Love Upsets Late-Charging Favorite Going Ballistic In The $100,000 MAXXAM Gold Cup at SHRP
Houston, Texas (March 27, 2010) - Sam Houston Race Park hosted its final stakes event of the 2009/2010 Thoroughbred racing season with the MAXXAM Gold Cup on a live racing card that featured nine live races and more than $200,000 in purse money on Saturday, March 27, 2010. Highlights of the nine-race card included the $100,000 MAXXAM Gold Cup and the $50,000 Sam Houston Distaff, which showcased the country's older and most elite horses.
The $50,000 Sam Houston Distaff, the sixth race on the card, featured a field of eight fillies and mares, ages four and up, racing a distance of 1 1/16 mile on the dirt track. This year's favorite, Bubbler (3-1), visited the winner's circle for the second time at Sam Houston Race Park after also winning the $100,000 Gallery Furniture Distaff on Texas Champions Day on December 5, 2009. The four-year-old filly, trained by one of The Park's leading trainers, Bret Calhoun, and owned by Du-Zee Stables, had a clean break from the starting gate and maintained a steady pace. Coming into the final turn, Bubbler broke away from the field, sprinting down the final stretch and winning by over 12 lengths in a time of 1:44.13.
Bubbler, guided by jockey Eddie M. Martin, Jr., previously claimed the Fair Grounds' $60,000 Marie G. Krantz Memorial Handicap in January.
"I've been riding this filly for awhile; won the Gallery Furniture Distaff with her back in December," commented Martin. "I could tell in this race she was fresh. She has been training very well, and I thought she put up a game race."
Jay Severs, assistant to trainer Bret Calhoun, filled in while Calhoun tended to horses at the Fair Grounds. "This filly is really claustrophobic, so she's struggled a little more at Fair Grounds," commented Severs. "She really likes racing here at Sam Houston because it's wide-open here. We're proud of what she's done."
The remainder of the eight-horse field featured Shine Softly in second, and Return the Jewel in third, followed past the wire by Idreamofafrica, Diva d'Oro, Super Esther, Crack of Dawn and Smooth Sea.
The $100,000 MAXXAM Gold Cup, the eighth race on the night's card, featured a nine-horse field of four-year-olds and up competing in a 1 1/8 mile race on the dirt track. Longshot Fifteen Love (15-1) stayed in the back of the pack, letting Numismatist and Mad Flatter keep the pace. At the final turn, Fifteen Love shot ahead of the pack and then held off the favorite, a late-charging Going Ballistic, to win in a time of 1:50.50. This is the second straight win for Fifteen Love after he won a Sam Houston allowance race on February 28, 2010. The five-year-old is owned by Jose Luis Espinoza and trained by Jerenesto Torrez.
"This horse ran a big race," commented Espinoza. "I didn't think he should've been at 15-1, but he showed them. We're looking to take him up to Dallas next."
Ridden to victory by jockey Junior Chacaltana, Fifteen Love paid betting fans $11.40.
"He had a perfect trip," commented jockey Chacaltana. "I saw a little room, and he just took off."
This race marked Chacaltana's first stakes win at Sam Houston Race Park.
The remainder of the nine-horse field featured morning-line favorite Going Ballistic finishing second and Dumar in third, followed past the post by Ready Set, Mad Flatter, Red Lead, Jake Wil Gallop, Gretsky and Numismatist.