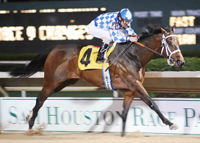 Gold Coyote
-photo by Jack Coady/Coady Photography
Gold Coyote Dominates $50,000 Fort Bend Stakes at Sam Houston Race Park
Houston, Texas (March 29, 2008) - Sam Houston Race Park held the $50,000 Fort Bend County Stakes Race, a seven-furlong stakes on the dirt track for three-year old accredited Texas-breds on Saturday, March 29, 2008. Favored gelding Gold Coyote ($3.20) broke strong from the gate, setting the pace for the field of nine and extending his lead down the stretch to win the race by a dominating nine lengths in a final time of 1:22.91.
Trainer Bret Calhoun stated, "He's a good horse. It's never been a question of his talent; he just sometimes makes a lot of mental mistakes, but he put it all together today - third race off the layoff - and he did what we knew he could do."
Jockey Bobby Walker, Jr. remarked as he entered the winner's circle, "That was amazing!" Walker continued by saying, "He's a very talented racehorse, and Bret's done a heck of a job. Tonight, he just loped around, and there wasn't much to it. We set the pace and crossed with a big lead, and you can't ask for anything more!"
Gold Coyote's owner, Clarence Scharbauer, Jr., eagerly watched the win from the apron. When asked about the horse's performance, Scharbauer, Jr. said, "He's just a nice colt and is one of the better ones I have raised in a good while. We are going to take him to Lone Star and race him there next."
The Scharbauer Family has earned two Kentucky Derby trophies with horses Alysheba (1987) and Tomy Lee (1959).
Ferdinand's Flyer finished second in the race, and third place went to Cuento Del Cielo.
In addition, SHRP hosted two prominent Arabian stakes races - the middle leg of the Arabian Crown race, the Texas Yellow Rose Stakes, a race for four-year old fillies, and the Texas Six-Shooter Stakes, another race for four-year old Arabians.
The Texas Yellow Rose Stakes, which featured a purse of $43,850, was claimed by DC Willful Spirit ($15.40), who earned her third straight victory, with jockey Jorge Guzman aboard for each of her races to date. The filly crossed the finish line ina final time of 1:34.94. Second place went to Ruby Earrings, and third place went to Abra Caadabra.
The $46,600 Texas Six-Shooter Stakes was won by Remarkable Man ($18.80). Second place went to Frysk Me Now, and third place was awarded to Robotic.
Sam Houston Race Park will host the Connally Breeders' Cup Turf Festival, which features the most prestigious race of the meet, the Grade III John B. Connally Breeders' Cup, and marks the closing day of Thoroughbred season, on Saturday, April 5, 2008.
Live Thoroughbred racing continues with races every Thursday, Friday, Saturday and Sunday in March at Sam Houston Race Park. For more information, please visit www.shrp.com.