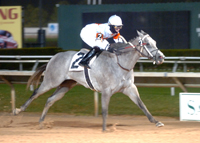 Deputy Dance
-photo courtesy Coady Photography

Deputy Dance Wins Bountiful Harvest Stakes at Sam Houston Race Park
(Saturday, November 24, 2007) - A competitive field of six 2-year-olds were entered in the $25,000 Bountiful Harvest Stakes, held on Saturday, November 24, 2007, at Sam Houston Race Park. Despite cold and drizzling conditions throughout the evening, Deputy Dance, trained by Steven M. Asmussen and owned by Houston-based Heiligbrodt Racing Stable, broke out of the gate and maintained a strong position throughout the course of the six furlong race. He completed the race with a final time of 1:12:08 over the main track, listed as good.
Jockey Jose Figueroa remarked that the colt "broke sharp and I just sat on him as we headed down the stretch." While the advice provided to Figueroa by Tony Mathiesen, assistant to trainer Asmussen, was simply "just to win tonight."
Deputy Dance beat out favorite pick Stormy Wedding, trained by Danny Pish and ridden by Steve J. Bourque. Coming in on the heels of Deputy Dance was Brendyn Jo of Dough Boy Stable, with Lucky Ned Pepper, ridden by Bobby J. Walker, Jr. landing in third place.
When asked how the weather conditions affected Brendyn Jo's performance, jockey Eduard A. Tejera commented that the surface was okay and it didn't seem to affect him much at all.
Sent off at 9-5 odds, Deputy Dance rewarded his backers with payouts of $6.00, $3.60 and $2.40 across the board. Brendyn Jo landed a second place win and third place went to Lucky Ned Pepper. Favored pick Stormy Wedding, trained by Danny Pish who celebrated his 42nd birthday today, the filly Ruffaroundtheedges and Malabar Slew completed the order of finish.
Live Thoroughbred racing continues on Sunday, November 25, 2007, at 5:00 p.m. Thursday racing returns to SHRP on November 29, 2007, at 7:00 p.m.
Sam Houston Race Park, with the support and cooperation of the Texas Thoroughbred Association (TTA), will host Texas Champions Day, a Live Thoroughbred Racing event with a Texas theme, on Saturday, December 1, 2007. The event, which features eight stakes races and $500,000 in racing purses, is a celebration of remarkable Thoroughbred horses, trainers, breeders and owners in Texas.
For more information, please visit www.shrp.com.