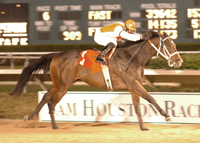 Chit Chat Pam
-photo by Jack Coady/Coady Photography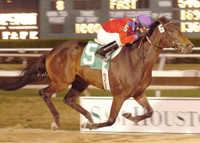 Brick Fight
-photo by Jack Coady/Coady Photography

Chit Chat Pam Wins the Two Altazano and Brick Fight the Jimís Orbit, Divisions of the Texas Stallion Stakes at Sam Houston Race Park
Houston, Texas (February 18, 2006) - A favorite and a longhot provided for some exciting finishes in both divisions of the $125,000 Texas Stallion Stakes. The series is underwritten by the Texas Thoroughbred Association (TTA) and was designed as an incentive for offspring of Texas-based stallions.
In the Two Altazano division for 3-year old fillies, Chit Chat Pam, who broke her maiden in last month's $30,000 Cy-Fair Stakes, proved that her win was no fluke. The daughter of leading Texas sire, Valid Expectations closed gamely for her second stakes win tonight under rider Filemon Rodriguez. Trained by Bob Young for owner Ken Murphy of Dallas, Chit Chat Pam defeated her six rivals crossing the wire of the one -mile contest in 1:41.42.
"She ran a good race," commented Young. "I thought Filemon rode a good race for us tonight. She got away well and did everything right. We can't ask for anything better than that, but we'll find out down the road how good she is."
"She's a very nice young horse," added Murphy. "She'll be consistently good, I think. We knew she could run short, but wanted to see to see if she could go long. This might have been an experimental race, but it was a good time to do it."
Kathy's Rocket, the leading money earner in the field, ran a game race under rider Terry Stanton. She won the $125,000 Texas Stallion Stakes last October at Retama Park and ran fourth in the $50,000 Bara Lass here on Texas Champions Day, but could not hold off the late charge of Chit Chat Pam.
"This was her first time at this distance, and (W.T. Howard) told me he wasn't able to train on her a whole lot because he's had problems," said Stanton. "He was worried about her coming up short, and that's what she did. She gave me all she had. If you look at the works, she's only had half miles, and (Chit Chat Pam) has been working 5/8 and 3/4 of a mile. I think I just got outrun today."
Chit Chat Pam was sent off at even-money and paid $4.20 for her win. The 1-3 exact returned $14.60 and 35-1 Valor Storm boosted the trifecta to $115.20. It's Valid, Larisaanna, Expect Misty and Seadrift completed the order of finish.
The $125,000 Jim's Orbit Stakes drew a field of 12, and longshot Brick Fight, who was making his stakes debut this evening, drew off under rider Quincy Hamilton and won in a final time of 1:40.80. Trained by leading Sam Houston Race Park conditioner Danny Pish and owned and bred by the John Silverthorne Ranch, Brick Fight prepped well for this race, winning a one-mile maiden special weight on January 6. Hamilton kept the bay colt close to the lead, dueling with the Steve Asmussen-trained Upstream in the early going, but pulling away in the stretch and winning by 3 ½ lengths.
"I wasn't very familiar with the horse," admitted Hamilton, who picked up the mount when Glen Murphy opted to ride Upstream. "My instructions were basically to get up close and press the pace and at the quarter-pole, I asked him for what he had and we were very lucky to be the best."
Pish has trained for John Silverthorne Ranch for four years, but the victory of Brick Fight was the first stakes win for the owners, whose racing operation is based in in Grand Prairie, Texas. Depending how he comes out of the race, Brick Fight may make his next start in two weeks in the $40,000 Texas Heritage Stakes.
"Blind luck is the greatest thing you can have in the racing game," quipped Pish, who watched the race via satellite from his ranch in San Antonio. "He won at a mile and was eligible for the race, so we wanted to give him a shot. It's wonderful if he just got lucky, but if he's turning the corner and turning into a great horse, that's even better. I give him credit for what he did tonight and salute Tony Edison and the whole crew for doing a great job."
Gambling Wolfe with Cathleen Garner in the irons was second and Upstream, part of the even-money favorite entry, ran third.
"The distance was a big factor," said Garner. "He's learning to settle better and make his run. The distance is a big factor for him. I felt he was pumped up about coming around two turns; he's been working well."
Brick Fight, sent off at odds of 41-1 returned $85.40, $22.80 and $8.00 across the board. The 5-2 exacta paid $395.60 and the 5-2-1 trifecta returned $1,324.60. Praisemeister was fourth followed by Lissa's Star, Vinegaroon, Tweed Suit, Mark's Boy, Single Sox, Meg's Wild One, Lake Mac Mac and Trade Zone.