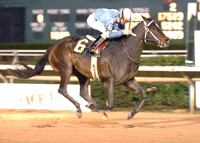 Slick City Nites
-photo by Jenifer Juelsgaard/Coady Photography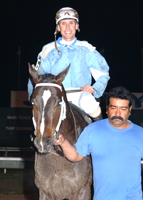 Slick City Nites
-photo by Sandra Beck/Coady Photography

Sloppy Track No Problem for Slick City Nites in the $30,000 Bucharest Stakes at Sam Houston Race Park
Houston, Texas (January 28, 2006) - A speedy group of nine 3-year-olds put on a show in tonight's feature, the $30,000 Bucharest Stakes. Heavy rain hit Houston this afternoon rendering the track sloppy, but Slick City Nites relished the mud and cruised to a two and one-quarter length victory. The 3-year-old colt is owned by Keith I. Asmussen and trained by his son, Steve. Ridden tonight for the first time by jockey Glen Murphy, the bay colt covered the six-furlongs in 1:11.94.
"Steve just told me to break good and get comfortable wherever we were at, don't chase the speed and drive him home," said Murphy.
The Bucharest Stakes is named for the late Thoroughbred sprinter Bucharest, owned by Israel Flores and trained by Amos Laborde, who set three track records at Sam Houston Race Park, including the lightening fast six furlong time of 1:08.88 on May 11, 1994, which remains the current track record. Mr. Flores and his wife, Florene, were in the winner's circle tonight to make the trophy presentation.
This is the first stakes win for Slick City Nites, who was making just the fifth start of his career. Bred in Kentucky, the son of Valid Expectations out of a Carson City mare, Slick City Chic, boasted a 405 mud Tomlinson rating and lived up to the number, rallying on the sloppy track.
"I was reading the form and sure liked to see numbers like that; it sure makes my job a lot easier," added Murphy.
Herman Muttster rallied for second under rider Omar Rodriguez. The gray Kentucky-bred is trained by Michelle Lovell and owned by Phillip Robertson and John Volkman. The owners and their guest had an assortment of t-shirts and masks bearing the likeness of Herman Munster, much to the delight of the racing fans in Houston.
"We're just trying to get people to smile," said Lovell. "This horse always makes us smile, and it's nice to make it fun for everybody."
"This is the sloppiest track he's been on, and we think he did great," added Lovell about the race. "We shortened (his trip) back to ¾ mile, and I thought he ran a really good race. He didn't really have the foot to be in the lead, and the lead has been winning here tonight on the off-track. I think he did great trying to run them down. He just got outrun by a better horse, but I think he did really, really good."
Slick City Nites paid $8.40 for the win as the second betting choice. The exacta returned $50.80 and the trifecta with post-time favorite Minstrel Runner paid $147.80 Six Iron, My Dana Boy, Morgan's Favorite, Hemi Power, See Me Free and Generally Lucky completed the order of finish.
Two Houston Rockets Visit Sam Houston Race Park
Houston Rocket players Jon Barry and Ryan Bowen enjoyed a rare night off and took in the racing action at Sam Houston Race Park. Bowen, who is 6'9" paid a visit to the saddling paddock and posed for a photograph with rider, Filemon Rodriguez

.