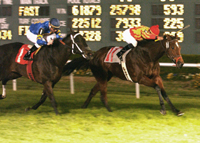 -photo by Sandra Beck/Coady Photography
Sound Of Gold Repeats in the $30,000 Willowbrook Stakes At SHRP
Houston, Texas (February 28, 2004) - A field of ten fillies and mares took center stage tonight at Sam Houston Race Park, competing in the $30,000 Willowbrook Stakes, a five furlong sprint on the John B. Connally Turf Course. Sound Of Gold, under rider John Jacinto defended her title, and proved she was a "horse for the course" as she improved her record on the Connally Turf Course to five wins from eight starts. Trained by Paul Pearson for Iowa-based owners River Ridge Ranch, the 6-year-old daughter of Mutakddim crossed the wire in a time of :57.96 and earned $18,000 for tonight's victory.
"I want to thank Paul and River Ridge for the opportunity," Jacinto said. "She ran great tonight. I let her break, but when I got to the stretch I knew I had so much horse left. She was really running in the end. Paul had done a great job with her; she's a really good mare."
Sound of Gold drew the far outside post for the five furlong sprint, and even though Pearson has a great deal of confidence in his mare, he thought his post position could have been a factor.
"Drawing the eleven (far outside post) hole concerned me very much," admitted Pearson. "We didn't have a big edge on that one horse (Leslie's Love). I thought we were competitive, but giving her the inside while we were on the outside didn't seem too fair. But, you have to take what you're dealt. The object of this race wasn't to go wire-to-wire; that wasn't going to happen. The other 10 horses weren't going to give us a head start. We were just trying get a little position for the first eighth of a mile and we knew she could run. Tonight's win is a tribute to the organization I work for because this mare is six now and she runs just like she was three. From the bottom and all the way up, I want to thank my help."
The morning line favorite, Leslie's Love, ridden by Gerard Melancon and trained by Troy Young, rallied to finish second. Melancon, the regular rider of the 7-year-old mare, was visibly disappointed in the outcome of tonight's race.
"We had a perfect trip but she just didn't seem to take a hold of turf down the backside," said Melancon. " She was trying hard at the end and we just missed. "
She doesn't like a wet turf course and it looked like she was struggling down backside," added Young. "She tried hard and I hate that she just missed. That other mare just didn't come back to her in time."
Fleeta Dif, owned, bred and trained by 79-year-old Tom Warren of Weatherford, Texas, ran third. She was the upset winner in the $50,000 Yellow Rose Stakes on Texas Champions Day in 2002. The daughter of legendary Texas sprinter, Hadif, at odds of 32-1, rewarded her backers with a $66.40 2 win payout. Tonight rider Terry Stanton sent her to the lead and she held on until Sound of Gold caught her at the 3/8 pole.
"I had a wonderful trip, but just ran out of horse," said Stanton. "She was worked up during the post parade and just never settled down. She just bounced the whole time. She ran her eyeballs out but I just didn't have enough horse. I just got outrun."
Sound of Gold, sent off at 8-1, paid $18.60 to win, $8.00 to place and $6.60 to show. The 11-1 exacta returned $54.00 and the 11-1-5 trifecta paid $1,175.40. Racie's Runaway, Strawbailey, Showmetothevilla, Candeelite, Raymond's Dream, Hacienda Del Mar, Cauy and Ciens Storm completed the order of finish.
Pearson indicated that Sound of Gold will remain at Sam Houston Race Park and make her next start in the $40,000 Jersey Lilly Stakes on April 10, the final day of the 2003/2004 Thoroughbred Meeting.