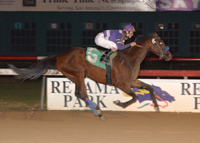 -photo by Ruben Garcia/Coady Photography
Lady Mallory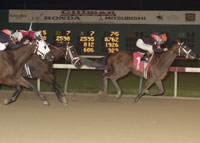 -photo by Ruben Garcia/Coady Photography
Fitzroyal

Upsets Order of the Night in Texas Stallion Stakes
Selma, Texas (September 13, 2003) - Lady Mallory rallied from off the pace to reel in odds-on favorite Eagle Lake in the filly division of the Texas Stallion Stakes Saturday night at Retama Park. Leading rider Jeremy Beasley booted home the winner for trainer Tommy Morgan. It was Morgan's third win of the night.
In the colts division, even-money favorite Most Feared failed to return to his Breeders' Cup form last October when the three-year-old colt by Commanchero could find no answer to the front-running Fitzroyal. Gerard Melancon kept Fitzroyal to task and won the seven-furlong race by six lengths.
Both races were open to horses sired by Texas-based stallions and each race carried an estimated purse of $45,000.