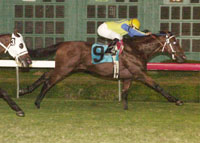 -photo by Kris Davis/Coady Photo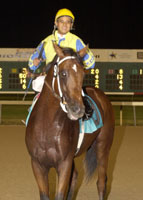 -photo by Kris Davis/Coady Photo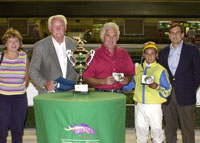 -photo by Kris Davis/Coady Photo
Zydeco Affair Finds Daylight in Mid-Stretch to Take El Joven
Selma, Texas (August 31, 2002) - David Beard owns a string of catfish parlors in Louisiana. Saturday night Beard's two-year-old colt, Zydeco Affair was as hot as fresh platter of fried fish when he got through an opening at the eighth pole to win the $100,000 El Joven by three-parts of a length over favored Leo's Last Hurrahy.
Jockey John Jacinto said he was fortunate to get through. " We had a bunch of trouble in front of us but thank God it opened up for us," said Retama' second leading rider.
Trainer Tony Richey said his plans for the winner are uncertain, but his charge should get better as the distance increases. Time for the one-mile turf race was 1:37 1/5.