2004 Breeders' Cup World Thoroughbred Championships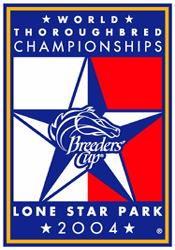 The 2004 Breeders' Cup World Thoroughbred Championships was held on October 30, 2004, at Lone Star Park at Grand Prairie. It was the first time the prestigious championship day had been held in Texas, and the Texas Horsemen's Partnership was proud to welcome horsemen around the world to our great state and to one of the greatest racing facilities in the world.
This page is meant to provide horsemen and other people interested in attending the 2004 Breeders' Cup World Thoroughbred Championships and the events that surround the day with a central place to locate information about tickets, events, area lodging, etc. to help you plan your trip to the 2004 Breeders' Cup World Thoroughbred Championships.
NEWS:
OFFICIAL EVENT WEBSITE:
Breeders' Cup Ltd. - www.ntra.com/bc_index.asp
Divisional Points Standings - www.ntra.com/bc_division_pts_index.asp
GRAND PRAIRIE BREEDERS' CUP FANFEST CALENDAR OF EVENTS:
See the Grand Prairie Breeders' Cup Committiee Calendar of Events for October - click here
OFFICIAL MERCHANDISE:
Shop for Breeders' Cup Merchandise- http://store.yahoo.com/ntrastore/breedcupwort.html
HOST TRACK:
Lone Star Park at Grand Prairie - www.lonestarpark.com
DIRECTIONS TO LONE STAR PARK:
For directions and a map of how to get to Lone Star Park at Grand Prairie, click here
RACE SCHEDULE/WAGERING MENU:
Lone Star Park at Grand Prairie's Breeders' Cup day race schedule, including post times and the wagering menu that will be available for each race - www.ntra.com/news.asp?type=bcstats&id=4741
LOCAL WEATHER FORECAST:
For Grand Prairie's 10-Day Forecast from Weather.com, Click here
OFFICIAL SIMULCAST OUTLETS:
List of offical simulcast outlets by state- www.ntra.com/news.asp?type=bcstats&id=4462
TICKETS:
Online Ticket Application - https://secure.lonestarpark.com/breederscuptickets/
Tickets by e-mail - bctickets@lonestarpark.com
Tickets by Phone - call 972-263-PONY or 800-795-RACE
Group Tickets (minimum of 48 guests) - e-mail groupsales@lonestarpark.com or call or call (972) 237-1192
AREA HOTELS WITH BREEDERS' CUP RATES/RESERVATIONS:
NOTE: For a quick comparative look at hotel prices and locations, click here
AmeriSuites - 2380 East Road To Six Flags Street, (817) 649-7676 - http://www.res99.com/hotel/10006194-10191432R.html
Arlington Hotel and Suites - 700 Avenue H East, (817) 640-0440 - http://www.res99.com/hotel/10006194-11294229R.html
Baymont Inn & Suites - 2401 Diplomacy Drive, (817) 633-2400 - No website
Best Western Great Southwest Inn - 3501 E. Division St., (817) 640-7722 - http://www.res99.com/hotel/10006194-10060470R.html
Candlewood Suites - 2221 Brookhollow Plaza Dr., (817) 649-3336 - http://www.res99.com/hotel/10006194-10191303R.html
Country Inn & Suites - Wet 'n Wild Way, (817) 261-8900 - http://www.res99.com/hotel/10006194-10227031R.html
Courtyard by Marriott - 1500 Nolan Ryan Expressway, (817) 277-2774 - http://www.res99.com/hotel/10006194-10004956R.html
Crowne Plaza Suites - 700 Avenue H East, (817) 640-0440 - http://www.res99.com/hotel/10006194-11294229O.html
Days Inn Arlington Ballpark - 910 North Collins, (817) 261-8444 - http://www.res99.com/hotel/10006194-10199802R.html
Fairfield Inn by Marriott - 2500 E. Lamar, (817) 649-5800 - http://www.res99.com/hotel/10006194-10000480R.html
Hawthorne Suites Hotel - 2401 Brookhollow Plaza Drive, (817) 640-1188 - http://www.res99.com/hotel/10006194-10000003R.html
Holiday Inn Arlington - 1507 North Watson Road, (877) 622-5395 - http://www.res99.com/hotel/10006194-10224032R.html
Holiday Inn Express Six Flags - 2451 E. Randol Mill Rd., (817) 640-5454 - http://www.res99.com/hotel/10006194-10221870R.html
Howard Johnson Ballpark - 2001 E. Copeland Road, (817) 461-1122 - http://www.res99.com/hotel/10006194-10236900R.html
Knights Inn - 700 East Lamar Boulevard, (817) 265-7711 - http://www.res99.com/hotel/10006194-10205556R.html
LaQuinta Conference Center at Six Flags Drive - 825 N. Watson Rd., (800) 453-7909 - No website
Marriott SpringHill Suites - 1975 East Lamar, (817) 860-2737 - http://www.res99.com/hotel/10006194-10218081R.html
Marriott TownePlace Suites - 1709 East Lamar Boulevard, (817) 861-8728 - http://www.res99.com/hotel/10006194-10214016R.html
Quality Inn and Suites - 1607 North Watson Road, (817) 640-4444 - http://www.res99.com/hotel/10006194-10010097R.html
Residence Inn by Marriott - 1050 Brookhollow Plaza Drive, (817) 649-7300 - Contact Directly, ASK FOR BIG 12 RATE
Wyndham Arlington - 1500 Convention Center Drive, (817) 261-8200 - http://www.res99.com/hotel/10006194-10040561R.html
AIRLINES:
NOTE: American Airlines is offering travel discounts as the official airline of the event - for more information, click here
AirTran - http://www.airtran.com/
American - http://www.aa.com/
America West - http://www.americawest.com/default.asp
Continental - http://www.continental.com/
Delta - http://www.delta.com/home/index.jsp
Frontier - http://www.frontierairlines.com/
Northwest - http://www.nwa.com/
Southwest - http://www.southwest.com/
United - http://www.united.com/
U.S. Airways - http://www.usairways.com/
RENTAL CAR COMPANIES:
Advantage - http://www.arac.com/
Alamo - http://www.alamo.com/
Avis - http://www.avis.com/AvisWeb/home/AvisHome
Budget - https://rent.drivebudget.com/Home.jsp
Dollar - http://www.dollar.com/
Enterprise - http://www.enterprise.com/car_rental/home.do
Hertz - http://www.hertz.com/servlet/LoginServlet?defPos=us
National - http://www.nationalcar.com/servlet/DocHandler/index.html?53071754ce9ab91
Payless - http://www.paylesscarrental.com/index.asp
Thrifty - http://www.thrifty.com/
AREA CITIES/VISITOR GUIDES:
Arlington
City of Arlington - www.ci.arlington.tx.us/
Arlington Chamber of Commerce- www.arlingtontx.com/
Arlington Convention & Vistors Bureau - www.arlington.org/
Dallas
City of Dallas - www.dallascityhall.com/
Dallas Chamber of Commerce- www.dallaschamber.org/
Dallas Convention & Vistors Bureau - www.dallascvb.com/visitors/
Fort Worth
City of Fort Worth- http://ci.fort-worth.tx.us/
Fort Worth Chamber of Commerce- www.fortworthcoc.org/
Fort Worth Convention & Vistors Bureau - www.fortworth.com
Grand Prairie
City of Grand Prairie - www.gptx.org
Grand Prairie Chamber of Commerce- www.grandprairiechamber.org/
Grand Prairie Convention & Vistors Bureau - www.gptexas.com
OTHER AREA ATTRACTIONS:
Arlington
Six Flags Over Texas - www.sixflags.com/parks/overtexas/index.asp - Bugs Bunny and his pals welcome guests to Six Flags, which is home to TITAN, the tallest, fastest, longest roller coaster in Six Flags Over Texas history and the no. 1-rated wooden roller coaster, Texas Giant. Ten themed areas on 205 lavishly landscaped acres feature more than 100 rides, games, shows and attractions for the entire family. Open daily in summer and weekends in spring and fall.
Six Flags Hurricane Harbor - www.sixflags.com/parks/hurricaneharbordallas/index.asp - Bask in the Texas sunshine at the southwest's largest water park. This 47-acre tropical get-away features dozens of heart-pounding rides, pools, and attractions that are soaked with excitement. Park features the Black Hole, voted the #1 water ride in the world, and the Sea Wolf, the longest and tallest water raft slide in America! A 1-million gallon wave pool and a children's area round out a day of fun. Locker, tube and towel rental, retail shops, and food service available.
Texas Rangers - http://texas.rangers.mlb.com/NASApp/mlb/index.jsp?c_id=tex - The Ballpark in Arlington is the home of the Texas Rangers, challengers for the American League West pennant. Enjoy tours of the Ballpark and visit The Legends of the Game Baseball Museum & Learning Center, the only place outside of Cooperstown to see an important collection of major league artifacts and memorabilia.
Dallas
Cedar Ridge Preserve - http://www.audubondallas.org/cedar_ridge_preserve.htm - Formerly the Dallas Nature Center, the Cedar Ridge Preserve is comprised of 640 acres of preserved wilderness, including native-plant nurseries and seven miles of hiking trails. Picnic area and visitor center on premises.
The Conspiracy Museum - http://www.conspiracymuseum.com/ - Learn about the high-profile assassinations and conspiracies surrounding the presidencies from Lincoln to Kennedy including MLK, RFK, and JFK.
Crow Collection of Asian Art - http://www.crowcollection.org/ - The Crow Collection of Asian Art contains more than 600 paintings, objects of metal and stone, and large architectural pieces from China, Japan, India, and Southeast Asia. Over 300 works are on display in the galleries including precious jade ornaments from China, delicate Japanese scrolls and a rarely seen 28-foot by 12-foot sandstone facade of an 18th century Indian residence.
The Dallas Aquarium (Fair Park) - http://www.dallas-zoo.org/aq/aq.asp?page=aq - Electric eels, moon jellyfish, endangered green sea turtles and a giant alligator snapping turtle are just a few of the 5,000 aquatic animals featured from around the world. The Amazon Flooded Forest exhibit showcases fish of the Amazon River. Scheduled shark and other fish feedings.
Dallas Arboreteum - http://www.dallasarboretum.org/ - Just minutes from downtown on the shore of White Rock Lake, the Dallas Arboretum features 66 acres with 11 lush display gardens that offer seasonal color all year long. Home of Dallas Blooms Spring, the Southwest's largest outdoor floral festival, the Arboretum provides a tranquil oasis where visitors are surrounded by the beauty of all four seasons. Amenities include the Hoffman Family Gift Shop, a dining terrace and several facilities available for rental.
Dallas Children's Museum - http://www.dallaschildrens.org/ - The Dallas Children's Museum encourages exploration and discovery with hands-on exhibits for children ages 2 through 10 and their families. Play and learn in our grocery store, hospital, "backyard", farm, art house, cultural exhibits and more.
Dallas Farmers Market and Resource Center - http://www.dallasfarmersmarket.org - One of the largest open-air markets in the country, the Dallas Farmers market was established in 1941 and is recognized nationally as a true farmer's market where farmers sell their crops directly to the customers.
Dallas Memorial Center for Holocust Studies - http://www.dallasholocaustmemorialcenter.org/ - Located on the lower level of the Dallas Jewish Community Center, the Memorial Center for Holocaust Studies features a meaningful exhibit of photographs, artifacts, and documentary films depicting the Holocaust and Jewishlife in Europe before the Holocaust. The research library includes a collection of videotapes of stories from local Holocaust survivors.
Dallas Museum of Natural History - http://www.dallasdino.org/ - With on-staff archeologists and paleontologists, the research-driven, collections-based Dallas Museum of Natural History is an ever-evolving arena of discovery. The museum's collection of over 280,000 specimens includes the world's largest exhibition of Texas wildlife habitats, rare and extinct animals, fossils, and a mounted dinosaur, the "Texas Tenontosaur."
Dallas World Aquarium - http://www.dwazoo.com/default.html - Exotic plants and creatures from around the world inhabit the Dallas Word Aquarium & Zoological Garden, where you can explore a South American rainforest or take a walk through a water tunnel surrounded by reef life from the Continental Shelf. Observe monkeys, stingrays, piranhas and penguins. Restaurant, cafe and gift shop. Available for private functions.
Dallas Zoo - http://www.dallaszoo.com/ - The world-class zoo covers 95 acres and features many rare and endangered species. Key exhibits include the ExxonMobil Endangered Tiger Habitat with Indochinese and Sumatran tigers, the Lacerte Family Children's Zoo with interactive, educational exhibits for children and the 25-acre Wilds of Africa, named the best African exhibit in the United States.
Fair Park Dallas - http://www.fairparkdallas.com - This 277-acre national historic landmark holds the largest collection of cultural facilities in Dallas. It's open year-round and is home to eight museums and a Vietnam Memorial.
Movie Studios at Las Colinas - http://www.studiosatlascolinas.com/ - Where movie magic is made. Be a star in our F/X show " Raiders of the Lost Colinas", experience the Addams Family Special Audio Effects Theater, and tour our costume museum. See some of the most recognizable props and costumes in motion picture history.
Science Place (Fair Park) - http://www.scienceplace.org/ - The Science Place strives to make science accessible and understandable to adults and children through its many exhibits and displays about medicine, physics, nature, and discoveries and inventions. The Science Place Planetarium and the IMAX Theater's giant domed screen make discovery and exploration a unique adventure.
Sixth Floor Museum at Dealey Plaza - http://www.jfk.org/ - From its location in the old Texas School Book Depository overlooking Dealey Plaza, visitors to the Sixth Floor Museum encounter a chilling recreation of the window area where Lee Harvey Oswald supposedly fired his fatal shots as well as exhibits chronicling the assassination and legacy of President John F. Kennedy. Researchers can comb through over 20,000 artifacts and archival materials or view the Zapruder film.
Southfork Ranch - http://www.southforkranch.com/ - Experience television history and Texas hospitality! Tour the Ewing Mansion and ranch grounds, re-live memories in the " Dallas Legends" memorabilia exhibit, eat at Miss Ellie's Deli, shop at two unique retail stores and more.
Texas Discovery Gardens (Dallas Horticulture Center) - http://www.texasdiscoverygardens.org/ - Many of the magnificent plants of Africa bloom during the winter in the Conservatory. The collection is especially noted for its specimen succulents from the arid regions of Africa and the spectacular Traveler's Palm.
West End Historic District - http://www.dallaswestend.org/ - The 55-acre West End Historic District is the center of tourist activity. More than 80 stores and 40 restaurants reside in the restored, redbrick warehouses including the West End MarketPlace. Take a carriage ride thru the area or check out the many historical sites within walking distance. Stand on the Grassy Knoll. Visit the Sixth Floor Museum. Stop by "Old Red", the famous courthouse that is home to the Dallas Tourist Information Center.
The Women's Museum - http://www.thewomensmuseum.org/ - The Women's Museum is a national center for the celebration and study of the immeasurable contributions women have made to society. Exhibits commemorate the women's movement, women in the arts, sports, and science. Inductees include Eleanor Roosevelt, Barbara Jordan, Georgia O'Keefe, Margaret Mead and others.
Fort Worth
Amon Carter Museum - http://www.cartermuseum.org/ - As one of the great museums of American art, the Amon Carter opened its doors to a new facility described by the museum's famed architect, Philip Johnson, as "by far the best building plan we have ever done…." Central to this expansion is the addition of almost 20,000-square-feet of new gallery space, enabling four times more art to be on view. With one of the largest and most important collections of American photography, as well as holdings of iconic American paintings and sculpture, the new Amon Carter Museum building provides a magnificent showcase for its collection..
Botanic Garden - http://www.fwbg.org/ - The 109-acre botanical garden, with more than 2,500 types of exotic and native plants, features a tropical plant conservatory, rose and Japanese gardens, open areas and walkways. It includes 21 world-renowned specialty gardens. More than 700,000 people visit the gardens each year.
Fort Worth Musem of Science and History - http://fortworthmuseum.org/ - In addition to permanent and visiting exhibits, the museum contains the Noble Planetarium and Omni Theater, an 80-foot-high, domed space with a tilted screen and 72 speakers driven by 19,000 watts of power. Popular museum programs include a summer school for kids, as well as a dinosaur bone dig on the grounds.
Fort Worth Nature Center and Refuge - http://www.nhnct.org/nature/fwnature.html - This urban retreat, complete with hiking, horse trails and a visitor's center, is the largest municipally owned facility of its kind in the nation with 3,500 acres of sanctuary and 20 miles of trails.
Fort Worth Stockyards - http://www.fortworthstockyards.org/ - International visitors are drawn to the Old West feel of the Historic Stockyards District's brick streets and restored buildings. The district boasts rodeos, western events, restaurants, retail outlets and much more. Some western attractions include the Tarantula Train, White Elephant Saloon, Stockyards Station and Cowtown Coliseum.
Fort Worth Zoo - http://www.fortworthzoo.com/ - The Fort Worth Zoo, considered one of the nation's best zoos, is Fort Worth's most popular tourist attraction, with more than 1.2 million visitors annually. The zoo is home to more than 5,000 exotic animals. Annual family events include Boo at the Zoo!, a Halloween treat, and Zoobilee of Lights, an enchanting holiday wonderland. Interactive education programs are offered for preschoolers to teenagers during the school year and summer months.
Kimbell Art Museum - http://www.kimbellart.org/ - Designed by architect Luis I. Kahn, the Kimbell is not only America's best small museum, but also a beautiful work of architecture. The Kimbell has achieved world status for the quality and scope of its collection and its original exhibitions.
Modern Museum of Art of Fort Worth - http://www.themodern.org/ - Designed by world-renowned architect Tadao Ando, the new Modern is the second-largest contemporary art museum in America, next to New York's MoMA. Hailed as one of the most significant architectural projects in the nation, the design embodies the pure, unadorned elements of a modern work of art, with massive planar walls of concrete and immense cantilevered cast-concrete roofs. The new Modern offers 53,000 square feet of exhibit space and 11 naturally landscaped acres, including a 1.5-acre reflecting pond.
National Cowgirl Museum and Hall of Fame - http://www.cowgirl.net/ - The only museum in the world dedicated to honoring and documenting the distinguished women of the American West includes three permanent galleries, traveling exhibits, a multi-purpose theater, a research library, a retail store, and the Cowgirl Hall of Fame. The $21 million, 33,000-square-foot museum designed by David Schwarz honors women from a wide range of backgrounds, including Georgia O'Keeffe, Dale Evans, Patsy Cline, Sacajawea, Willa Cather, and Annie Oakley.
Sid Richardson Collection of Western Art - http://www.sidrmuseum.org/ - This exhibit includes the largest single collection of works by Frederic Remington and Charles Russell, considered by many to be the finest of the western artists.
Sundance Square - http://www.sundancesquare.com/ - Sundance Square, named after the famed Butch Cassidy and the Sundance Kid, is a 16-block area of buildings that date from the turn of the century and have been beautifully restored to provide a wonderful architectural view of the past. Sundance Square is full of excitement with a vibrant mix of restaurants, shopping, theater, arts, movies, music and more. Texas Monthly has called downtown Fort Worth the most exciting downtown in the state.
Texas Motor Speedway - http://www.texasmotorspeedway.com/default.asp - Located near Alliance Airport in north Fort Worth, this 1.5-mile racetrack features 200,000 seats and 200 luxury skyboxes encompassing an area larger than eight Texas Stadiums put together. The track hosts a variety of racing and related events, including NASCAR Winston Cup, Busch, Craftsman Truck and Indy Racing League dates, racing schools and auto shows. In addition to the high-speed entertainment, there are luxury condos and the Speedway Club, which is equipped with a health club and five star dining.
Grand Prairie
Palace of Wax and Ripleys Believe It or Not! - www.palaceofwax.com/ - In the Palace of Wax, come face to face with lifelike figures from Hollywood, horrors, the Old West, history, childhood fantasy and the life of Christ. Ripley's showcases eye-popping galleries displaying the most beautiful, bizarre and fascinating oddities from around the world.
Trader's Village - www.tradersvillage.com/ - "The Famous Texas Flea Market" features more than 2,000 vendors selling their wares every Saturday and Sunday, year-round. More than 3 million visitors a year are attacted to the 106-acre site which also offers kiddie rides, arcade games and a wide variety of festival foods. Featuring special events throughout the year.